SimCentral Simulation Platform
The Digital Twin for Your Entire Process Plant Lifecycle
SimCentral Simulation Platform is an innovative, integrated platform covering the entire process engineering lifecycle of design, simulation and training to deliver the process side of the Digital Twin.
SimCentral is the first commercially available platform to take advantage of developing web-based and cloud technologies to deliver an enjoyable user experience so that engineers will be more productive, collaborative, creative and inspired.
Enable the Future of Plant Process Simulation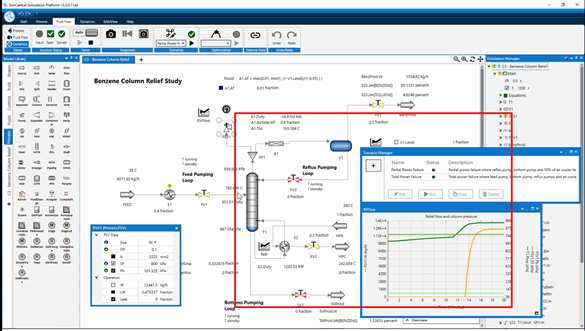 Plants are more complex and more integrated. Companies bring new processes and products to market more quickly. Engineering departments are global. Engineering Managers must respond to changing conditions while onboarding a new generation of engineers. SimCentral Simulation Platform is designed from the ground up to deliver the benefits of Digital Transformation.
Lifecycle Simulation Reuse the same simulation over all engineering phases with Design, Rating and Dynamics modes in a single model.
Faster Adoption Replace up to 50 programs used in a typical process engineering department with a single, easy-to-use interface.
Increase Collaboration Change the engineering workflow with concurrent use by process, utility, control, and mechanical engineers.
Retain Top Talent Make engineering more about creative problem solving, and less about button pressing.
Support the Process Model Lifecycle in a Single Platform
Conceptual Design Find the optimal design through fast evaluation of design alternatives with flexible specifications and continuous solving.
FEED Specify optimal equipment by modeling interacting systems and directly populating the engineering database.
Detailed Engineering Find the optimal set-point with seamless dynamic simulation and design for controllability.
Start-up Enable fast troubleshooting through operator training simulation and integrated DCS logic.
Operations Reduce downtime by running debottlenecking and process improvement studies with the same model in pressure-driven or flow-driven modes.
Please contact us anytime
We're happy to provide more information about our products, services, solutions, technical support, training and events.
You can also contact us if you're looking for the latest news or simply want to connect with us.
m: +36 30 310 1155 | t: +36 1 350 2101
Please fill out the form with your message and we will get in touch shortly.