AVEVA NET
A powerful web-based Information Management solution for engineering and operations.
The Right Information, When and Where You Need It
AVEVA NET is a powerful web-based Information Management solution for engineering and operations. It brings together information from multiple sources and in multiple formats to enable users across your business to securely access, visualise, validate and collaborate on the Digital Asset data. AVEVA NET automatically extracts and maintains tag-to-tag, tag-to-document and document-to-document relationships to provide efficient navigation of the Digital Asset and aid information discovery. It provides powerful search capabilities, delivering fast, effective location of project information.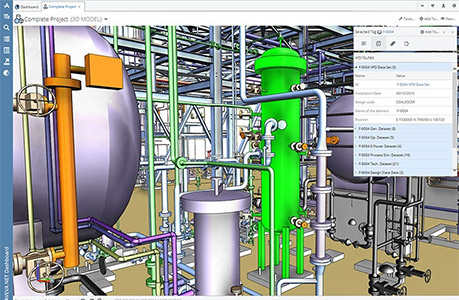 Engineering Contractor
More efficient use of project information
Enhanced data quality, reducing errors, delays and rework
Improved compliance with applicable information standards
More rapid and efficient data handover to the client
Plant Owner/Operator
Improved safety
Increased plant uptime
Enhanced regulatory compliance and audit
More efficient execution of upgrade projects
Features and Capabilities
Consistent, Verified and Easily Accessible Information is a Vital Asset for Every Sector of Engineering
Web-based Data Visualisation AVEVA NET provides high quality web-based visualisation of tag data, documents, drawings, 3D models and laser scans. Automatic creation of hotspots and hyperlinks ensures easy identification and navigation of tags. Through its aggregation of project and asset data, AVEVA NET is uniquely placed to report on the quality, consistency and completeness of project data; improving project compliance and enabling efficient operation handover.
Information in Context The successful delivery and operation of large, complex capital projects in the process plant, shipbuilding, energy and infrastructure & building industries relies on the availability and validity of huge volumes of data. Information is often held in a variety of different formats in unconnected sources, and teams can be dispersed across various global locations.
Powerful Information Management AVEVA NET is a powerful Information Management product, bringing together information from disparate locations to enable you to effectively address all of these challenges. Through the combination of a centralised repository and enterprise-wide information access and visualisation, users have control of their project and asset information throughout the entire asset life cycle.
Please contact us anytime
We're happy to provide more information about our products, services, solutions, technical support, training and events.
You can also contact us if you're looking for the latest news or simply want to connect with us.
m: +36 30 310 1155 | t: +36 1 350 2101
Please fill out the form with your message and we will get in touch shortly.