Gain the AVEVA Engage™ Advantage
Power with Simplicity: Your Digital Asset, Realised
Instantly Visualise Your Digital Asset Through a Uniquely Simple Touch-driven Interface
AVEVA Engage combines breathtaking Ultra-High Definition (UHD) whole model visualisation with instant, touch-controlled access to contextually filtered information, to set a new benchmark for collaborative engineering decision support.
At the Forefront of Engineering Design and Information Management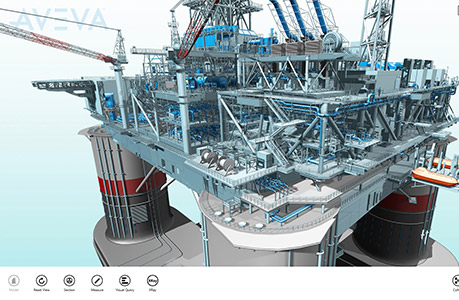 AVEVA has been at the forefront of engineering design and Information Management software for nearly 50 years. During that time much has changed but our focus has remained on helping customers to work with less risk, shorten lead times and increase efficiency.
As we look to the future, we have anticipated what will be required for our clients to achieve better, faster, more reliable decisions and we are developing new technology solutions to deliver this benefit via an initiative called 'The Future of Decision Support'.
Intuitive access
Clear understanding
Unrivalled decision support
Features and Capabilities
Powerful and intuitive, AVEVA Engage removes barriers to collaborative, effective decision making.
It provides instant access to the information you need to make informed decisions, visualised in Ultra-High Definition, literally at your fingertips. At every stage of the project or asset life cycle, AVEVA Engage can improve the speed, accuracy and reliability of your decision making.
Unlocks value from your Digital Asset information with a simplicity that was never before possible.
Extends the benefits of 3D visualisation and Information Management to decision makers at all levels, in all disciplines.
Delivers immediate value, through rapid deployment and minimal user training.
Combines easy access and understanding with the power of validated information, to support multi-discipline decision making throughout the project or asset life cycle.
Reduces errors and delays by increasing the understanding of complex assets.
The Power of AVEVA Engage's Touch Interface
Designed for touch, AVEVA Engage combines market-leading 3D visualisation with a seamlessly connected view of project and asset information, delivering a highly efficient and effective decision support capability for capital projects and operations environments. AVEVA Engage's touch interface dramatically reduces learning time, enabling you to more quickly derive value from your Digital Asset.
Please contact us anytime
We're happy to provide more information about our products, services, solutions, technical support, training and events.
You can also contact us if you're looking for the latest news or simply want to connect with us.
m: +36 30 310 1155 | t: +36 1 350 2101
Please fill out the form with your message and we will get in touch shortly.